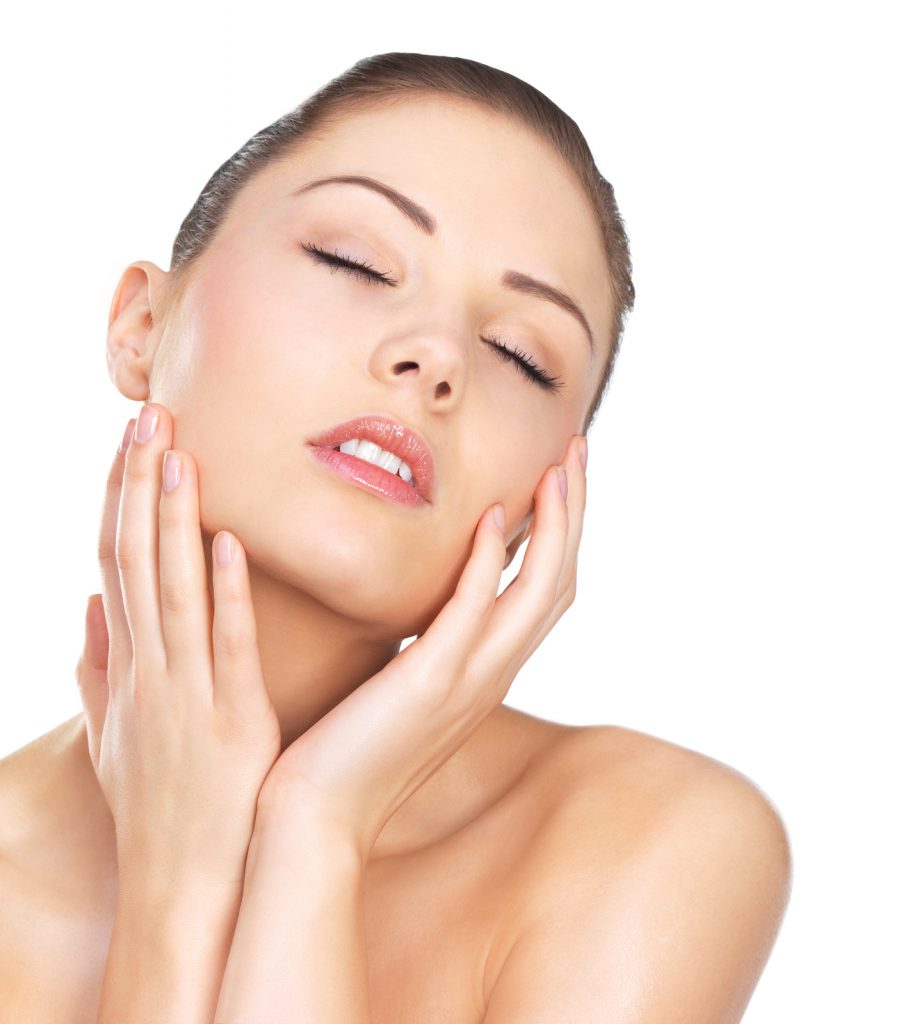 Chemical peels are special topically applied formulas that revitalize and renew the skin surface by creating an even and controlled shedding of old skin cells. This allows new layers of cells to be exposed, creating a new fresh appearance along with a smoother texture on the skin surface. A chemical peel can combat a variety of things such as improve sun damage, acne scarring, blotchy pigmentation, fine wrinkling and early pre-cancerous skin lesions. A peel can also improve and be beneficial to acne-prone skin and clogged pores.
Here at MD Aesthetica we offer a variety of peels that range from mild to more aggressive and deep peels.  Your physician or provider can guide you to decide which is treatment is most appropriate for your skin and desired outcome during a consultation based on your goals and other factors.
To find out which peel is best for you, call 713-799-0000 and set up a consultation so that an expert provider may determine your skin type, goals, and discuss what options would work best for you.
Advanced Corrective Peel
The Advanced Corrective Peel at MD Aesthetica from SkinCeuticals is a medically exclusive peel that targets a variety of skin concerns in those with mild to moderate signs of aging.  It is safe for all skin types and Fitzpatrick I-V.  The peel can be easily customized to the patient's individual needs.  For optimal results, a series of 4 to 6 treatments every 4 weeks is recommended.
Renews the skin's surface texture
Improves discoloration for an overall brighter and clarified skin tone
Helps to minimize enlarged pores
Contains concentrated blend of clinical-grade phenylethyl resorcinol (for skin brightening), salicylic acid (for photodamage), and lactic acid (for hydrating and plumping the skin)
Rejuvenize Peel®
The Rejuvenize Peel® at MD Aesthetica is an advanced formulation of peeling agents, with a built in anti-irritant and penetration enhancer that provides controlled exfoliation of the uppermost damaged layers of the skin to reveal fresher and healthier skin.  Rejuvenize Peel provides predictable results with minimal down time.
Indicated for moderate to severe skin conditions: fine lines, wrinkles, photodamage, pigmentary irregularities, acne and acne scarring
Predictable results noticeable after just one peel
Well tolerated with minimal downtime
Deeper than Vitalize Peel
Vitalize Peel®
The Vitalize Peel® at MD Aesthetica is a unique blend of acids and other cosmeceutical ingredients designed to help you achieve dramatic improvement in texture and tone, lessening of superficial lines and a healthier, more youthful look and feel with minimal down time. This renewal process has been clinically proven to help pigmentation problems (such as age spots) and acne scarring fade and stimulate collagen production in the cells underneath.
It is gentle enough to use every three weeks for maximum benefits and a glowing, healthy start to your skincare regimen. Resulting from as little as one peel, you will notice a renewed appearance, including:
Dramatic improvement in epidermal texture.
A lessening of age spots, freckles and superficial pigmentation resulting from photo-damage.
Reduction of enlarged pores.
The Vitalize Peel® incorporates retinol and alpha hydroxy acids with resorcinol and other active ingredients to create a safe and mild peel. A mild sloughing of the skin typically occurs two to three days after the Vitalize Peel® is performed.
Vitalize+ Peel®
The Vitalize+ Peel at MD Aesthetica is a stronger version of the Vitalize Peel with the addition of retinoic acid.  With this treatment patients will typically experience visible peeling two to three days after the peel is performed. It is recommended as a great way to jump-start your healthy skincare routine.
Illuminize Peel®
The Illuminize Peel® MD Aesthetica is ideal for first-time chemical peel patients or patients looking for a gentle, very superficial peel. With little or no visible peeling, patients achieve enhancement of skin appearance with very minimal downtime and discomfort. The Illuminize Peel is formulated to increase skin glow and radiance, while improving clarity, color and skin texture.
This non-invasive, very superficial peel utilizes a novel approach to chemical peeling with a newer generation of alpha hydroxyl acids (Mandelic Acid and Malic Acid) in combination with Phytic Acid and commonly used peeling agents (Salicylic Acid and Resorcinol) to maximize skin rejuvenating effects with low irritation. The Illuminize Peel may be used on all skin types.
Micropeel Hlycolic 30
The Micropeel Hlycolic 30 at MD Aesthetica peel is an alpha hydrodxy acid (AHA) based treatment formulated to exfoliate the skin, refine pores, and reduce the visible signs of photodamage by accelerating the cell renewal process. This peel uses unbuffered and un-neutralized acids at a low pH level making it ideal for dry, combination, or sensitive skin types.
Acne Peel
The Acne Peel at MD Aesthetica uses patented high concentrations of stabilized, self-neutralizing beta hydroxyl acid (BHA) to reduce acne while also improving blotchiness, texture issues, and uneven skin tone. This peel is ideal for combination, oily, or acneic skin with moderate post-inflammatory pigmentation.