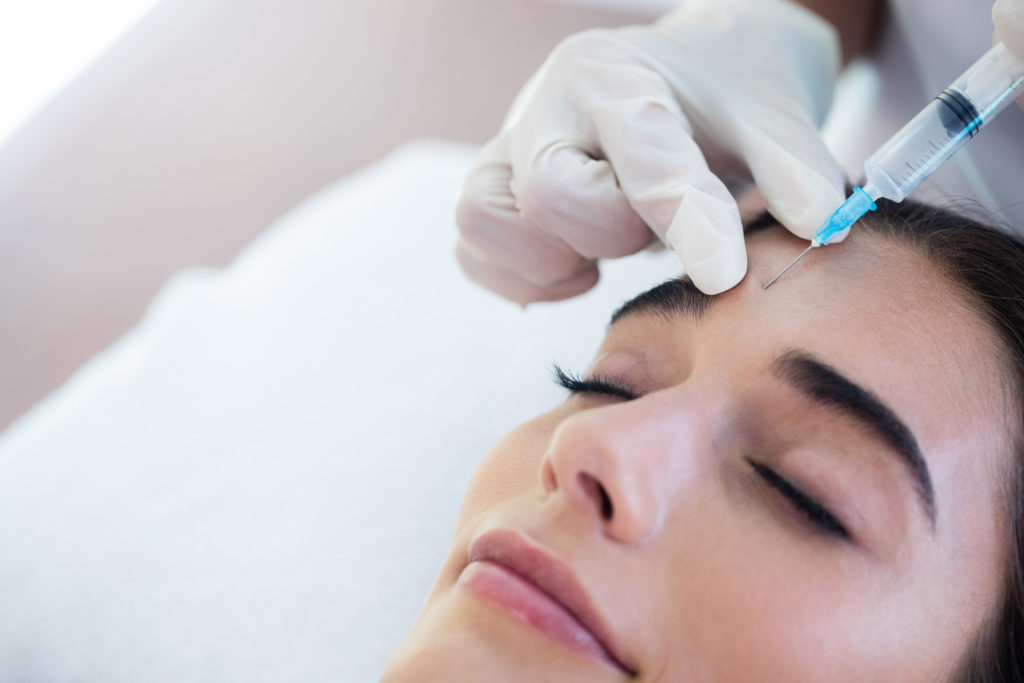 Thank you, Houston, for making MD Aesthetica by Dr.Lyos one of the top providers of Botox in Houston!
Botox in Houston is undoubtedly one of the most popular treatments we offer at MD Aesthetica in Memorial City and The Woodlands; an ideal treatment for busy professionals. One of the most effective treatments for busy professionals to erase visible signs of ageing, Botox has had FDA clearance for cosmetic use since 2002. Botox injections work by blocking the signals from the nerves to the muscles in order to minimize contraction and tensions, leading to the smoothing out of lines and wrinkles.
Anti-wrinkle injections work great by targeting fine lines and wrinkles such as the unavoidable frown lines on our foreheads, the expression lines around our mouth such as marionette lines, and other tell-tale signs of ageing on the jowl line, neck and décolletage.
Botox is categorized as a medical product therefore only available under the prescription of a doctor or fully qualified nurse. All of the injectable treatments offering by MD Aesthetica including Botox in Houston and the rest of our clinics are performed by doctors or fully qualified nurse practitioners with an extensive knowledge and experience in the field. Do not let anyone less qualified touch your face.
HOW DOES BOTOX WORK?
Botox utilizes a natural, purified protein that is injected in a small quantity to reduce the contractions and tension of the muscles that cause those persistent frown lines that have developed over time. While the results are dramatic, it will not radically change your facial appearance. The muscles are simply more relaxed, so you can still frown, smile, or look surprised; just without the wrinkles and creases caused by the tension.
WHAT IS A MD AESTHETICA BOTOX TREATMENT LIKE?
Botox Cosmetic procedures are quick, simple, and minimally invasive, and no anesthesia is required though we do offer it complimentary to our more sensitive patients. Injections are given with an ultra-fine needle directly into the area being treated. Discomfort is minimal and quick, and once complete, there is usually no discomfort and no downtime. Most people return directly to work or normal activity following treatment with the only restriction mainly being not to lie down horizontally for 2-3 hours following the treatment.
WHAT AREAS CAN BE TREATED WITH BOTOX COSMETIC?
Botox treatments can be performed in a large number of locations, including between your brows, eye area, smile lines, and neck. Typically, Botox Cosmetic takes a few days to reach its full effect and ladt anywhere from four to six months.
WHY CHOOSE MD AESTHETICA BY DR.LYOS FOR BOTOX?
MD Aesthetica by Dr.Lyos in Houston TX, is one of the leading providers of Botox in the Houston, is a "Platinum" level Allergan. Dr.Andrew T. Lyos has trained numerous physicians and nurse injectors around the nation on proper Botox injection techniques. As with any medical or cosmetic procedure, it is important to choose an experienced provider.
BRILLIANT DISTINCTIONS PROGRAM
Become a member of the Brilliant Distinctions® Program and receive special offers and exclusive invitations. Add membership to the Brilliant Distinctions® Points Program where you can earn points on Botox Cosmetic, Voluma, Vobella, and Juvederm treatments.
HOW MUCH DOES BOTOX IN HOUSTON COST?
Botox treatments are priced according to the number of Botox units to treat the desired area. The more units needed, the higher the total cost of the procedure will be. The amount of Botox each individual patient will need differs based on the number of facial areas treated and the strength of each targeted facial muscle as well as things such as gender with males usually requiring a little more.