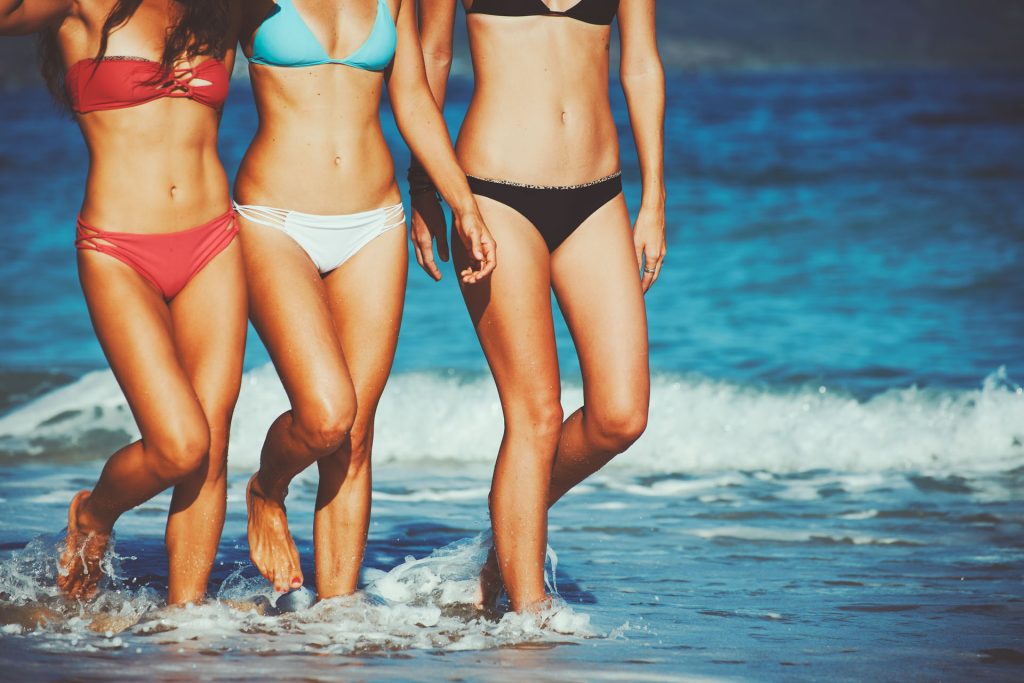 Coolsculpting at MD Aesthetica Medspa in Houston
Rapidly growing in popularity following its approval by the FDA in 2010, CoolSculpting has quickly become one of the top treatments for non-invasive fat reduction. This revolutionary technology specifically targets and cools unwanted fat cells in the target area to help induce a noticeable and natural reduction in fat bulges. There are no needles, surgery, or downtime involved! Many patients pass the quick treatment time reading, watching TV, or simply relaxing and even napping.
Coolsculping® offers amazing results
Results appear natural and can be noticed possibly as early as 3 weeks; typically, 1 to 3 months after the treatment is when the most dramatic result of fat loss will be seen. MD Aesthetica is one of the few clinics in the nation to offer the new Coolsculpting CoolMini to help remove fat from the neck and chin area as well as the bra-strap area.  Plus, MD Aesthetica was the first center in Houston to receive the new CoolSculpting CoolAdvatage applicators dropping down the treatment time for some areas to as low as 35 minutes!
Belly
Saddle Bags
Inner Knee Fat
Arms
Inner & Outer  Thighs
Upper Abdomen Under Chest
Neck Under Chin
Muffin Tops
Chest Area [For Men}
Back
Knees
Hips
Underarm/Bra Strap
Waist Cinching
Love Handles
How does Coolsculpting work?
Fat freezing? Fat cells freeze at a higher temperature than the surrounding tissues around it. When scientist teaching at a teaching affiliate of Harvard Medical School noticed children who sucked popsicles on a regular basis would develop thinner cheeks or dimples as a result of the cold killing fat cells in the cheek, the realized this cooling process could be used to target other areas. Coolsculpting technology safely and effectively delivers precisely controlled cooling to effectively target fat cells in a gentle manner under the skin. The treated fat cells are crystallized [Frozen] and die then being flushed out of the body by the kidney.  MD Aesthetica is one of the top providers of  Coolsculpting in Houston and The Woodlands both in terms of volume and results.

What areas can you treat with CoolScultping?
With over 8 different applicators at MD Aesthetica, CoolSculpting can help treat a variety of unwanted, stubborn fat in areas such as the tummy, love handles, flanks, inner & outer thighs, arms, under the chin, the back, knees, and even the bra-strap area.
How much does CoolSculpting Cost?
CoolSculpting is a fantastic, affordable option for those seeking assistance in reducing stubborn fat without surgery or downtime. Each patient is different in their fast reduction goals so as a result each patients experience is bespoke and custom. An in-person evaluation is done to determine the total cost of the treatment to transformation that each patient desires. These assessments are complimentary. CoolSculpting is usually less than half the cost of invasive fat removal treatments such as liposuction or surgery. MD Aesthetica offers treatment financing though CareCredit for our patients.
How long does CoolSculpting take?
MD Aesthetica offers DualSculpting and TriSculpting meaning that we have multiple machines to complete treatments in half the time or less of a clinic that might only have one machine. Each area treated typically takes an hour and the number of areas treated will determine the amount of time you use. Luckily, the treatment is very easy and our flagship clinic is set up to make sure that each patient is comfortable from start to finish with TVs, WiFi, water, and a selection of magazine. Patients usually can even catch up on emails or sleep as well while being treated. Results are usually seen 1-3 months after the treatment.
Does CoolSculpting work?
CoolSculpting works exceptionally well, helping reduce the visible appearance of unwanted fat in troublesome areas. Our picture portfolio of patients speak for themselves. There are some patients who may not be an ideal candidate for CoolSculpting,  so MD Aesthetica offers complimentary consultations to discuss personal goals and see if CoolSculpting may be a good solution. See the before and after CoolSculpting results for yourself.
Major Benefits of CoolSculpting
Versatile. As one of today's most effective and versatile cosmetic treatments, CoolSculpting can target nearly any area of the body that host unwanted fat.  The most popular areas include  the abdomen, thighs, saddlebags, inner thighs, love handles, arms, chest, waist, and back. Our CoolSculpting experience is extensive, with continued education and progress in fat reduction on new body areas every year. Why? Past CoolSculpting patients return and ask us to treat new areas. We share our experience with you to develop the most effective CoolSculpting treatment plan to accomplish your goals.
Effective. Backed by years of research, CoolSculpting is based on the scientific principle that fat is more sensitive to cold than underlying tissue and skin due to its cellular composition. Triggering a natural process known as apoptosis, CoolSculpting reduces fat cells from the body without damaging nerves or surrounding tissue.*
No downtime. Most of our patient's are surprised by how pleasant and relaxing the CoolSculpting procedure is by resting, watching a movie, and working, while we freeze away billions of fat cells! CoolSculpting has no downtime, with just some numbness where fat is treated and mild soreness. Patients can expect to see a difference in their appearance in as little as two to three weeks, with most result at two to three months.*
Our Exclusive CoolSculpting Suites. Our practice has two CoolSculpting Suites. Our CoolSculpting Suites are equipped with large comfortable beds, large TV's with Netflix, and healthy snacks and drinks. Many of our patients will come in for a full day of CoolSculpting treatment using 2,3, or 4 of our machines to treat the full body at the same time.
About MD Aesthetica CoolSculpting:
MD Aesthetica, founded by Dr. Andrew T. Lyos, is one of the largest CooSculpting practices in Texas and the nation. Having done thousands of treatments, we are leaders in the Houston area. Our experienced staff of medical practitioners understand CoolSculpting's concept of Treatment to transformation, allowing our patients to look and feel their best. MD Aesthetica provides CoolSculpting for all of Houston with convenient locations in Memorial City and The Wooldands. Only trust your body with proven experts, schedule a consultation and see what CoolSculpting can do for you at MD Aesthetica.