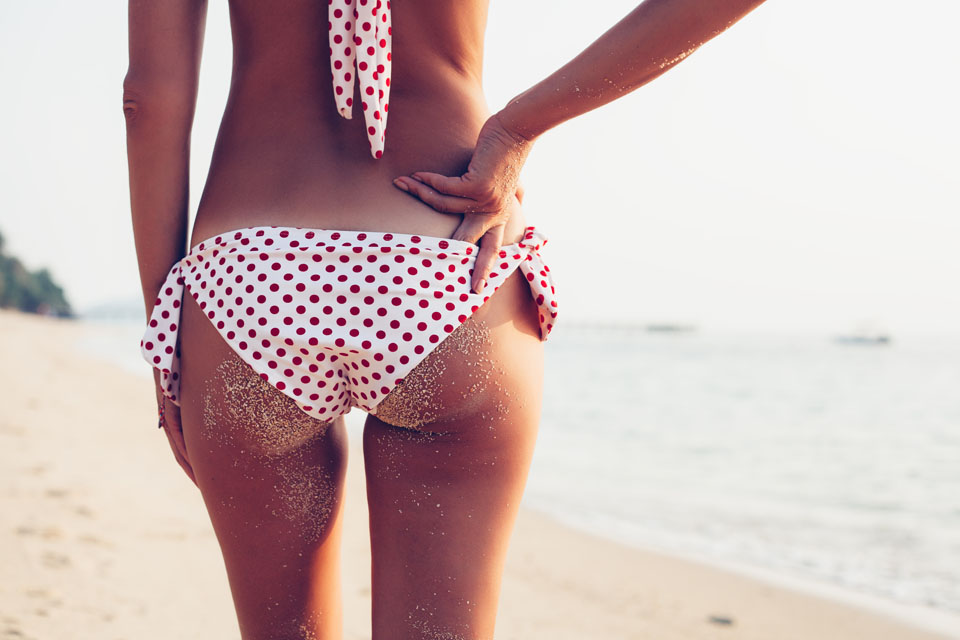 Cellfina is the only minimally invasive and longest-lasting cellulite treatment cleared by the FDA and clinically proven to reduce the appearance of this stubborn concern. Performed by Dr.Lyos at our Memorial City flagship clinic, Cellfina combines a proven approach with an innovative technology to treat the structural causes of cellulite. Dr.Lyos was the first plastic surgeon to receive the device in Houston and has become a local expert on the procedure even providing demonstrations for Merz, the parent company of Cellfina.
The result is a solution for one of the most common aesthetic complaints, leaving patients with smooth contours that restore their confidence.
How Cellfina Works
Cellulite is caused by connective bands woven throughout the fat on our bodies pulling down on skin, creating dimpling seen on the skin's surface, most commonly seen on the buttocks and legs. Cellfina works by specifically targeting these tethered bands with a tiny microblade inserted just below the skin, therefore encouraging the bands to fray and then fully break and release its pressure. Similar to a rubber band, once released, the treated skin "bounces back," smoothing itself out in as little as 3 days.
Cellfina at MD Aesthetica
At MD Aesthetica we can safely and effectively use Cellfina on the buttocks and thighs to create a smoother, more rejuvenated appearance in shorter skirts and shorts in as little as 30 days. Cellfina  results last over 3 years – the longest FDA clearance for a cellulite treatment. Studies have shown patients reported high rates of satisfaction following their treatment results. After 3 months consequently, 85% of patients were satisfied, and after one year, 94% of patients were satisfied. This is a higher patient satisfaction rate than other leading cellulite treatments.
At the time of consultation, we will assess your skin and make suggestions on an ideal treatment plan and possibly recommend other therapies that may a be of benefit such as CoolSculpting or Ultherapy to body contour or tighten the skin.
A Smooth That Lasts:
FDA-cleared
Minimally invasive, one-time procedure
Significant, rapid improvement
Limited downtime
96% patient satisfaction at two years
Long lasting results for at least 3 years
Why Cellfina with MD Aesthetica & Dr.Lyos?
Dr.Lyos was the first plastic surgeon to start providing Cellfina in all of Houston in early 2016. As a result, the practice has a breadth of experience unmatched in the area to the point where Dr. Lyos has served as a trainer and educator for Merz, the German manufacturer of Cellfina.
Cellfina Houston- MD Aesthetica
To schedule online click HERE.
Frequently Asked Questions
How does Cellfina™ work?
Cellfina™ is a minimally invasive procedure performed in-office to improve the appearance of cellulite. This innovative technology involves a subcision of the area, performed totally under local anesthesia. Cellfina™ eliminates cellulite by inserting a microcannula to release the connective fibers of the skin. The underlying fibers are released by detaching the fibers that pull down on the skin, which results in dimpled and lumpy skin. As a result, the skin will smooth over in just a couple of days with one treatment, reducing the severity of dimpled skin. The final result is a smooth and healthy look.
How long does the treatment take?
Depending on the severity, the number of treatments will vary from patient to patient. The Cellfina™ treatment generally takes about forty-five minutes to an hour complete at MD Aesthetica.
Does the treatment hurt?
The procedure is performed under local anesthetics to reduce the risks associated with general anesthesia. Local anesthetic numbs the areas being treated to reduce discomfort. Three days following treatment, most patients described their pain as 2.7 on a scale where 10 is extreme pain and 0 is no pain at all.
Is there any downtime and/or recovery?
Minor bruising and swelling may occur. The recovery process varies from patient to patient but the majority of individuals are able to return to normal activities the same day. In the case that a patient has a known history of bruising, we may suggest specific supplements or creams as a preventative measure.
How quickly do the results appear, and how long do they last?
Remarked improvement in the appearance of cellulite can often be seen within three days post-treatment. This treatment has long lasting results that last up to two years for most patients. This is the longest FDA-cleared treatment for improving cellulite.